At the tender age of fifteen Stella already performed with the rock and roll band The Skybolts in Deventer where she spent her childhood.

In Amsterdam she studied voice, presentation and performance with the renown vocal coach BEP OGTEROB. She furthermore was enrolled in the Sweelinck Conservatory in Amsterdam for two years after which she left Holland to work as a singer in Inter-Continental and Hilton Hotels in a.o. Amsterdam, Paris, Istanbul, Kabul and Tehran.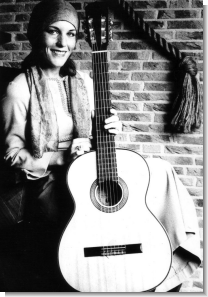 WWW.STELLAJANSEN.NL
In 1979 she went to the United States with her former husband, the well-known American poet Lee Bridges with whom she organized jazz and blues extravaganzas in a.o. The Doelen Concert Hall in Rotterdam and The Concertgebouw in Amsterdam with famous artists like Kenny Clark, Memphis Slim, Kenny Drew, Art Taylor, Johnny Griffin. In New York Stella performed in Super Clubs like f.i. Trude Heller's, The Jazz Forum, Old Westbury Gardens, The Monsignore II, The Vista International Hotel, she appeared in television programs like The Joe Franklin Show, WOR/TV, radioshows and recorded in Radio City Music Hall Sound Studios her first LP, GOING PLACES, with jazz musicians like Marion Brown (saxophone) and Steve Mc Call (percussion). BACKSTAGE wrote about her debut-album: '....album contains a mix of jazz oriented tunes and ballads with a Galic flavor that shows Jansen's technique and style to good advantage: and,: '...jazz vocalist with a rich sound works traditional/cabaret route despite normally experimental sidemen like Steve Mc Call and Marion Brown.

In 1984 Stella moved to Ibiza with her second husband where she a.o. performed in The Ibiza Sun Festival of 1987. She also performed regularly on the island and appeared in radio programs. Stella is back in her beloved Amsterdam where she released her cd FRACTAL ENERGY in April 2002 and MI GUSTO in December 2003. Her latest album Going Easy was released in March 2005. FOR BOOKINGS, GIVE US A CALL AT: 00-31-[0]20-6344432 AND 0681080323 OR E-MAIL: stella.jansen8@gmail.com