At the tender age of fifteen Stella already performed with the rock and roll band The Skybolts in Deventer where she spent her childhood.

In Amsterdam she studied voice, presentation and performance with the renown vocal coach BEP OGTEROB. She furthermore was enrolled in the Sweelinck Conservatory in Amsterdam for two years after which she left Holland to work as a singer in Inter-Continental and Hilton Hotels in a.o. Amsterdam, Paris, Istanbul, Kabul and Tehran.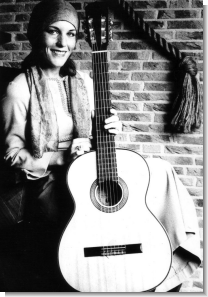 WWW.STELLAJANSEN.NL
Pictures throughout the years...
Stella Jansen


15, singer of The Skybolts

Stella Jansen


Stella Jansen - KRO radio met metropole orkest

Stella Jansen


Stella Jansen in Van Alle Kanten Show in Theatre Romijn - Leeuwarden - Friesland

Stella Jansen


Stella Jansen in The Joe Franklin Shows - WOR-TV - New York

Stella Jansen


Stella in Mexico-City

Stella Jansen


In Trude Heller's, Manhattan 1979 foto Bobbie Kingsley

Stella Jansen


Stella singing with los trovados in La Parroquia Mexico

Stella Jansen


STELLA AT THE RELEASE PARTY OF GOING PLACES ALBUM IN GALLERY SOHO New York

Stella Jansen


Justin and me Hardtsee Germany

Stella Jansen


The Skybolts

Stella Jansen


Stella, Gracias A La Vida

Stella Jansen


Owen and me

Stella Jansen


HAPPY YEARS IN JIRNSUM

Stella Jansen


STELLA EN FRENTE DE LA CATEDRAL EN TAXCO

Stella Jansen


Billboard 1984

Stella Jansen


Stella at Casablanca, Amsterdam

Stella Jansen


STELLA ENAMORADA Y FELIZ

Stella Jansen


ALWAYS MUSIC IN THE HOUSE

Stella Jansen


AT FORTY IN CANNES 1989

Stella Jansen


Stella Jansen

Stella Jansen


Hierve al aqua 2008

Stella Jansen


AT EASE WITH THE INDIANS MEXICO

Stella Jansen


IBIZA SUN FESTIVAL 1987

Stella Jansen


16 YEARS, 1st time on Dutch TV

Stella Jansen


Stella relaxing in Acapulco

Stella Jansen


NEW YORK 1981

Stella Jansen


Relaxed in Mexico

Stella Jansen


SWINGING & HAPPY IN NY EIGHTIES

Stella Jansen


HAPPY IN MEXICO 1998

Stella Jansen


The Skybolts

Stella Jansen


FOTO BILL YOSCARY

Stella Jansen


STELLA, HIERVE EL AQUA

Stella Jansen


GREETJE AND ME IN COTTON CLUB